2021-02-16 15:00:00
2021-02-16 16:00:00
CoLaboRadio
by Ximena Alarcón
---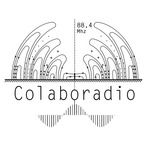 INTIMAL Long Distance Improvisation: Oslo, Barcelona, London (2019)
2 Fragments: PujaconColores and LongDistanceImprovisation.
By Ximena Alarcón
These are fragments of the online version of the Long Distance Improvisation (May 7, 2019), among nine Colombian and Latin American immigrant women residing in Oslo - Barcelona - London. The improvisers in each city "activated" an oral archive with testimonies of Colombian women in diaspora (Diaspora Women) using the MEMENTO software created by the INTIMAL project, through a mobile phone interface, detecting their steps, to interrelate fragments of the oral archive. In all three cities, they listen in headphones to the same material, but with local and random activation. The breathing of the improvisers was sonified in real time in the three cities, and amplified in loudspeakers, with the RESPIRO software, created by the project, as a way of having their embodied presence. The synchronicities between their expressions in the distance are fortuitous and help the appearance of more layers of a collective memory. Their voices were transmitted through the commercial software Discord, and the transmission was created with OBS Open Broadcaster. Silences and disconnections are part of the aesthetics of the Internet and cell phones, and distance-mediated listening. In a parallel with the migration process, the work invites us to listen to intermediate spaces of historical memory of migration and conflict. This is a necessary catharsis to imagine the birth of other possible individual and collective stories that help to heal so much loss and sadness: a shared dream.
The INTIMAL project was developed at RITMO Center, University of Oslo thanks to a Marie Sklodowska Curie Individual Fellowship No 752884 granted to Ximena Alarcón, and to the support of the Research Council of Norway through the Centers of Excellence scheme, project number 262762. The telematic performance was supported by Melahuset and VoxLab, Oslo; PHONOS Foundation (Pompeu Fabra University), Barcelona; Iklectik ArtLab and CRiSAP (University of Arts London), London.
To read about the INTIMAL project: http://intimal.net
Improvisers: Anita Ramirez, Calu, Dr. Liliana Rodriguez, Lucia Nikolaia, Manigua, Myriam Ojeda Patiño, Silvia Villalba Martínez, Violeta Ospina, Yamile Calderón Bermúdez. Collaborators (Tiempas): Bruna Scott, Janeth Rojas, Lida Franco."
Suelo Fértil [Fertile Soil] Audio Essay (2016) (A Telematic Platform for Migrant Women)
In this audio essay, presented on March 5th, in FOOT2017 Festival in the Panel 'Cultures and Listening', in Toronto-Canada, the listener is invited to immerse on the migrant women's reflections on the space that has been shared, and the connections that they have established. Two telematic performances created in May and July 2016 are treated as sound archives interwoven with women's creative process, their reflections and my commentaries. In-between bilingual voices, the listener is invited to perform a reflective listening exercise extracting the essence of the project beyond complete linguistic understanding. Suelo Fértil is envisioned as a sustainable artistic platform: embracing virtual connections as a sonic architecture that connects physical spaces, to support the grounding and expansion of migrant women, so as to flourish in any soil.
This essay and project initiated in 2016 has become in the shape of INTIMAL Virtual Territory with Latin American migrant women.
Performers in Conversation: Ana Cecilia Medina, Gabriela Gordillo, Jazmín, María Ponce, Miho Hagino, Sol, Yasmin Kuymizakis and Yesica Barrera.
To read about Suelo Fertil: http://suelofertilcollective.wordpress.com
---
This series is dedicated to broadcasting various forms of radio and transmission art.
---
88,4 MHz - CoLaboRadio